Piano moving is a big challenge due to its special size and shape and among most the sensitivity of its delicate parts. Normally a basic upright piano can weigh between 150 to 300 kg and in special cases can reach 600 kg and even more and beside that Pianos are awkward.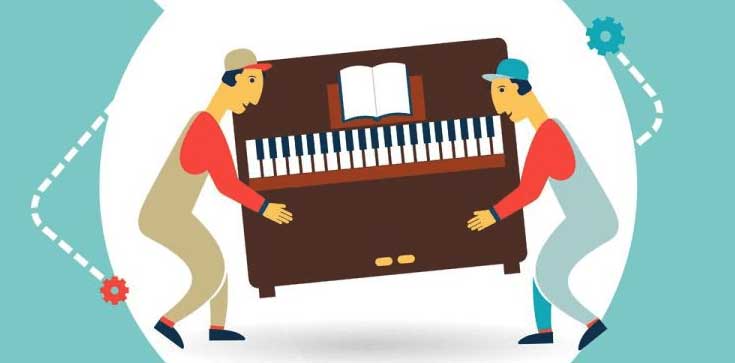 Usually pianos are valuable and expensive item inside a person's home and their price range is about low thousands to upwards of $100,000.
Some special situations make Moving more complicated such as tight doorways, narrow stairwells, steep stairs and other structural challenges of your home.
It is strongly recommend to hire a professional moving team with piano moving experience to accomplish the job and handle the task for you with utmost care, as they use special equipments that only a professional moving company can provide.
If hiring a professional moving team is not in your budget or timetable, Secure Moving LTD provides you some Tips and hints to not cause any damage to it and protect your valuable instrument in a step-by-step manner.
Enlist at least four helper people to accomplish the job and offer them pizza and beer after Moving
Make sure exactly where the piano will go
Prepare some heavy duty furniture straps and two dollies, which are used for safer and easier lifting and carrying
Demount the legs and other parts if it won't fit through doorways or hallways
Close and lock the keyboard lid with special care to prevent it from opening while moving. Protect piano pedals as well
Wrap the piano by using blankets or padding to protect the wood surface fro bumps, scratches and dents. Pay attention to the corners and protect them with extra care
Do not lift it by its legs as they are extremely vulnerable and weak
Keep balance while moving, focus on weight division
Apply FiLo strategy in a truck, So First in and last out. Pianos are first item to load and last item to unload from moving truck
Re-tune and inspect the piano after putting it in its final place
For the case that you have Piano moving, please give Secure Moving a call at 1-6047243432 today to see if we can help make your move easier or request a quote online.