Actually Exterior landscape lighting can extend living space physically and visually and convert your yard into a welcoming ambiance for family members and guests entering the front door, and comforting escape.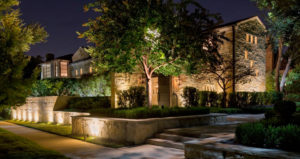 It is easier to plan the events at home as grilling at night is charming particularly during seasons when it gets darker earlier.
Way finding is as well easier when the lighting is pleasant.
Lighting is one of the most important items for home decoration. Additionally you can change the home look for a better one just by having some budget in mind. Hopefully you can search for some very useful tips in internet nowadays.
Don't forget specific areas that could benefit from lighting, such as the front door, a pool, steps, driveways, garage doors, pathways, decks or patios, address plates, landscaping, flagpoles and outdoor cooking areas.
Do you like interesting landscape or architectural features? Having perfectly designed lights makes the architectural features of your home stand out and creates an inviting and colourful curb appeal.
Another factor which can be changed by lighting is total security, as statistically seen well lighted home becomes less vulnerable to potential intruders attack.
In addition to making it easier to manoeuvre around the outside of your home.
If one day you plan to sell your home, good Outdoor Lighting and outstanding Aesthetics will help increase value of your home and the chance of selling it with the price in your mind.
As welly decorated home attracts the attention of potential customers and as you already know, first impression counts a lot.
We as Secure Moving always here to give you right direction and tips to give your home more valuable and best service during your transaction and you can give as a call for more advice at 1-6047243432 today to see if we can help make your move easier or request a quote online.