One of the last items in your house that get loaded onto the truck are usually Mattresses and how to Moving Of Mattresses.
Have you asked yourself how should you prepare it for safe shipping and and how to Moving Of Mattresses?
Followings we have some points regarding best ways on how to move your particular mattress: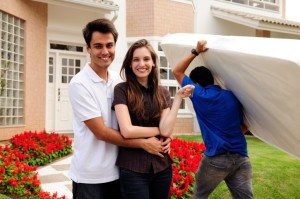 1) Move an Air Mattress:
You can just simply deflate the air mattress to prepare it for storage. When rolling the mattress, roll it as tightly as possible to prevent any damage. Try to pack it in its original box, as its guaranteed to fit.
2) Move a Waterbed:
A waterbed, water mattress, or flotation mattress is a bed or mattress filled with water which primarily consist of two types, hard-sided beds and soft-sided beds.
Moving a waterbed means draining and folding it in several steps. First of all, remove the waterbed heater to protect the mattress while draining it, then decide on how to drain the mattress with the proper tools. An rentable electric pump or drain & fill kit can be quick and efficient. While draining the water, tilt the mattress to get more water out. Roll the mattress like you would a rug. If you're storing the mattress get a conditioner to prevent mold and bacteria, otherwise it should be truck-ready.
3) Move a Sleep Number Mattress:
Just like air mattress, Sleep Number beds must be deflated to prevent damage and boxed properly. We recommend completely disassemble the base of your bed before moving, though the frame is very strong. Disassemble the Sleep Number bed properly can help ensure all working components are safely detached and packed away so you can efficiently reassemble your bed later on.
4) Move a Traditional Mattress:
Moving a traditional mattress and box spring is relatively simple, they can be moved on their side. Storing and moving a mattress on its side is simple enough while improper packing and handling can separate the layers and tear the foam. To protect your mattress during the move, look for bags specific to the size of your mattress. Your mover or packing service might have these already. Another option is to use a mattress box, which might provide more protection during a long distance move. Don't wrap the mattress in plastic, especially if the mattress will travel for more than a day, as plastic can trap moisture and encourage mold or mildew growth.
5) Move a Futon Mattress:
The advantage of Futon Mattress is that you can taking it apart before attempting to move it from one room to another.
First unzip and remove the cover of your futon mattress, find a mattress bag that fits the mattress to protect it from stains and damage. Then Disassemble your frame to remove the four arm bolts, two from each side of the futon and keep the mattress flat during the moving process. Place all small components in a small sandwich bag, and label it. Separate the two decks from each other, which make one large bed when flat. Place one deck on top of the other with the arms and legs touching. Use duct tape to tape the two decks together. Duct-tape the two edges, or stretchers, together separate from the decks. Move the bag of pieces, side pieces, deck and mattress to their new location.
We always there to carry your mattresses, give Secure Moving a call at 1-6047243432 today to see if we can help make your move easier or request a quote online.